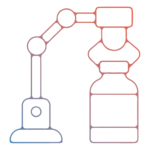 RobotiC special machines for the pharmaceutical industry
Special machines meet the specific needs of testing, inspecting, manufacturing and packaging of the pharmaceutical and medical sectors. Robotisation and automation secure their complex production processes, by guaranteeing product quality and limiting the risk of contamination.
To meet the requirements of the pharmaceutical and medical industries, our special machines are designed for production in aseptic environments and clean rooms. More globally, our experience in this industry has taught us to work with its various constraints.
EEPI R-MAC : robotiC cells for autonomous controls of syringes
Our robotic cells have the function of carrying out autonomous quality controls on batches of syringes during production, at the end of production, in laboratory…

Main characteristics:
Machine, products and controls can be customised
Plug & play
Compact and mobile cells, that can be integrated in any production area
Tests and controls that can be proposed:
Measurement of the total length of the syringe
Gliding force measurement
Needle pull off force measurement
Needle penetration force measurement
Checking the position of the plunger in the syringe
Measurement of the piston seal lift-off and the force at the bottom of the syringe
Control of the syringe needle angle
Placing of pistons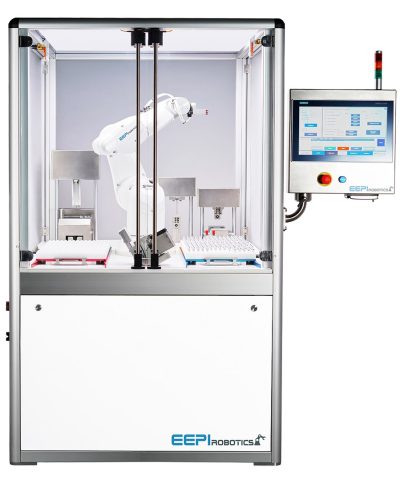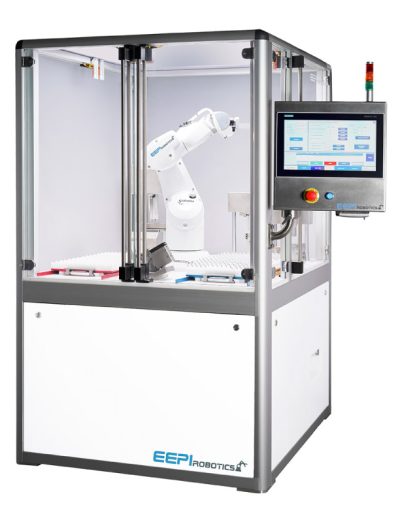 Some of EEPI Robotics realisations
in the pharmaceutical industry
ROBOTIC CELL FOR BAGS' STERILISATION
The function of this installation is to load bags coming from a filler, onto trays for sterilisation. After sterilisation, it unloads the bags onto a conveyor that directs them to the visual inspection or picking area. The gripping system is very complex and can handle several bags simultaneously, even if they are at high temperatures, without deforming them.
ROBOTIC CELL FOR FLASKS' STERILISATION
We designed this installation to load flasks of various sizes on trays from the filler to an autoclave. After sterilisation, the flasks are unloaded from the autoclave, checked for compliance and then palletised for distribution.
ROBOTIC INSTALLATION FOR TRANSFER OF FLAKS TO FREEZE-DRYER
This installation was designed for a clean room. It has the function of loading full flasks onto trays that will be transferred to freeze-dryers. It consists of two robots with different gripping systems and functions, working together.
ROBOTIC CELL FOR TUBS CONTAINERS PALLETISING
The tubs are firstly filled and then palletised at the end of the line. Thanks to an identification and tracking system, the conforming tubs are placed in containers and the non-conforming ones are evacuated.
For more information about our know-how in the pharmaceutical industry,