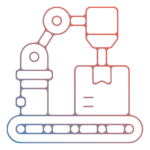 Robotic special machines for the packaging industry
In order to cope with the changes and requirements of the packaging industry, such as production speed, product compliance, regulations on products compositions and operators' safety, we design our special machines taking into account all these specific conditions.
Our robotic lines and systems can be adapted to any type of packaging and packing required during production. We design all the grippers for our robots in-house in order to customise for the handling of all materials and compositions (paper, cardboard, plastic, etc.), whatever their characteristics (flexibility, dimensions, weight, etc.).
For compliant and fully secure packaging during packing and transfer of finished products, we integrate solutions such as vision systems, packaging quality control and data technology (operation data tracking).
We integrate robots into our special machines not only for the packaging industry, but also for any industry that requires an industrial solution for packaging and packing products.
Palletising
High speed evacuation
Packaging
Labelling
Cartoning
Over-wrapping
Case packing
Some of EEPI Robotics realisations
in the packaging industry
ROBOTIC INSTALLATION FOR PACKING OF FLEXIBLE PACKAGINGS
EEPI Robotics is specialised in high-speed handling systems for flexible packagings (bags, pouches, etc.) and their packing into cartons. We designed several robotized lines that take the packagings at the exit of the cutting machine, to jog them and place them in cartons.
AUTOMATION OF CIGARETTE PACK PRINTING MACHINE EXIT
We designed two installations to robotize the end of cigarette pack production lines: at the printing and die-cutting output. Their function was to check the conformity of cigarette packs of different sizes and to transfer them to be palletized.
ROBOTIC INSTALLATION FOR THE BOXING OF CUSHION PADS
The function of this special machine is to put cushion pads into boxes, when they arrive from a die-cutting machine. It is able to handle cushion pads of different formats (according to several parameters: length, width, embossing…).
ROBOTIC MODUL FOR BOXING CIGARETTE FILTER BAGS
The filter bags arrive in bulk on a moving conveyor at the exit of the production machine. Thanks to a vision system, the filter bags are picked on the conveyor by the robot and packed into boxes.
For more information about our know-how in the packaging industry,