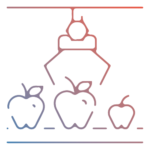 RobotiC special machines for the
food industry
Food manufacturers are facing major challenges about automation. The solutions must be flexible to adapt to the products according to consumer trends, but also meet the safety, hygiene and quality requirements of the food industry. All this while remaining competitive.

Special machines and robotics are used to meet the specific needs of the food industry. Whether for handling delicate products due to their size, shape, weight or material, or for packaging these products, our robotic custom-made installations can be perfectly integrated into production lines.
Flowpack
Mixing
Moulding and demoulding
Stacking
Packaging (bags, trays, etc.)
Cartoning
Palletising
TYPES OF PRODUCTS THAT CAN BE HANDLED
Thanks to our design office, we design all our gripping systems in-house. We also manufacture all of them. For these reasons, we are able to handle all types of products:
Cheese
Bakery products and pastries
Chocolates and confectionery
Meat and meat products
Fish and fishery products
And more, according to your needs!
Some of EEPI Robotics realisations
in the food industry
ROBOTIC SYSTEM FOR DOUGH PIECES LOADING
This installation is designed to load dough pieces in hotplates before baking. The ingenuity of this special machine based on robotic arms lies in the robot's gripping system which handles extremely malleable dough pieces.
ROBOTIC CELL FOR MIXING CHEESE PORTIONS
Thanks to its system, the gripper can handle 16 cheese portions at the same time. This installation mixes different types of portions (various flavours), before packing them in containers and feeding the packaging lines with the final assortments.
ROBOTIC CELL FOR UNLEAVENED BREAD STACKING AND PACKAGING
The unleavened breads are collected on a conveyor, once they are baked. They are sent to the installation which is equipped with a vision system and four robots with a complex gripping system to stack the unleavened bread at a high rate before packaging the stacks in plastic bags.
PACKING, CRATING AND PALLETISING OF ALL KINDS OF PRODUCTS
For example : packing of Tripacks of full glass bottles, crating of cushion pads, packing of sugar cubes, loading and unloading of crates…
More about our know-how in the packaging industry
For more information about our know-how in the food industry,